Plywood Marine Grade
If you are in the business of building boats or just looking for home construction materials that will stand up to the elements, then we can deliver a product for you. We carry a wide range of grades and species from Marine Okoume plywood and Meranti plywood for high end boat construction to Douglas Fir exterior plywood for home construction. We aim to be the "marine grade plywood near me" distributor as our trucks ship materials regularly all across the US, and we deliver into the Caribbean and Hawaiian Islands.
Douglas Fir Marine Grade Plywood
Douglas Fir marine plywood is very strong, bends well, and is of medium weight. It is the cheapest of options for marine plywood, and the faces may have up to five patches or repairs but no voids. Although the grading term is no longer in use, a BS 6566 grade could be applied to our Douglas Fir plywood. It excels in all things except appearance.
The lower BS 6566 grade means that the appearance of the Douglas Fir plywood is not as good as the higher BS 1088 grade Bruynzeel Okoume Gaboon plywood, and knots and patches may be apparent on the Douglas Fir plywood, yet it still meets the high standards for weather and boil proof (WBP) glue that is key to keep the plies from delaminating.
The early and late growth common with a softwood can leave an uneven surface that will telegraph its inconsistencies through a fiberglass or epoxied surface. This is the plywood to use in the many areas where it will not be seen. The natural weather resistance that is inherent with Douglas Fir makes this an outstanding plywood for marine use.
Bruynzeel Marine Okoume Plywood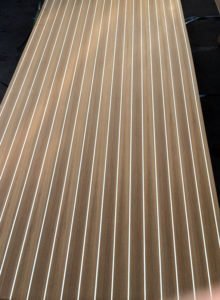 Our Bruynzeel Okoume Gaboon (Aucoumea klaineana) plywood is rated as BS 1088 and is the best product to be used for boat building and extreme environments. Okoume Gaboon is an African species that is very similar to Mahogany, and it has a very consistent appearance with a tight grain and is very light. Of course, it is also highly weather resistant. When used as a plywood that is treated with WBP melamine glue and laminated with a 100% Okoume Gaboon core, it is very durable, weighs little, and finishes like glass.
We also carry Sapele Marine grade plywood. This is manufactured with the same high standards as the Okoume panels, but now the face and inner core is 100% Sapele (Entandrophragma cylindricum) with zero defects. These sheets carry the same BS1088 rating as the Okoume, but they offer a beautiful face for stain grade projects. The faces are a rotary cut Sapele, as this is the only way to provide a continuous sheet with zero seams in order to meet the BS1088 standards. The higher density of Sapele makes this a heavier and more durable panel and an excellent option for stain grade projects where beauty is an important factor.
With a full range of marine grade products, we can customize your panel and lay up your face veneer of choice onto the appropriate panel for your project. Teak and Holly panels are one example of this custom product, and one that is highly popular in the boat building trade.
Bruynzeel plywood is the product to choose for decking and exterior surfaces that need to be veneered with an attractive wood, painted, fiberglassed, or epoxied. Our Bruynzeel plywood is of a very high quality and is sought after by the best boat builders in the world.
J. Gibson McIlvain is an exclusive North American distributor of Bruynzeel plywood. Learn more about this truly top quality marine plywood with this Bruynzeel Spec. Sheet
Both species are available in a variety of thicknesses with rotary cut faces and zero voids. The veneer ply count may vary depending on whether the product is domestic or imported. We do this on purpose to offer options for those looking to bend the plywood in boat building applications who may require more or fewer veneers.
Read more about our Bruynzeel Okoume.
Do You Need Waterproof or Water Resistant?
Unfortunately, the term "marine grade" gets thrown around a lot and has created many misconceptions about what it is and how it should be used. Sometime you need to ask yourself, "Do you really need Marine Grade Plywood?" as the application you have planned will dictate the type of panel necessary.
When someone specifies they need marine grade plywood, they could be searching for a waterproof product to be used for exterior work on boats that will be coming into direct contact with water and possibly submerged completely, OR they could be seeking an exterior grade plywood that has some water resistance and which would be used for something like a house in a wet climate. These are only two examples of the many applications for which marine grade plywood is used.
Water resistance, weight, strength, and ease of bending are all important factors to consider before deciding which type of marine plywood to buy.
The most common face veneer species available in marine plywood are Okoume, Sapele, Meranti, and Douglas Fir. The plywood core will vary depending on the quality of the panel but will usually be Douglas Fir, Meranti, or Okoume.
As with all our products, J. Gibson McIlvain strives to provide a higher quality. We offer several types of marine grade plywood, from medium grade, general use Douglas Fir to top of the line 100% Okoume and Sapele plywood.