Tabebuia Serratifolia
Ipe Wood is the King of Tropical Decking
Ipe has earned a world class great reputation by being one of the only hardwood decking products that will last as long as you own your house. It has a 40 plus year lifespan, therefore this Brazilian tropical hardwood will add value and a lifetime of use and beauty to any deck, porch, siding, or interior flooring project. Furthermore, the class A fire rating of Ipe is a nice bonus feature. In short, it is one of the best exterior woods for decking, docks, siding, furniture or whatever you need to stand up to the wrath of Mother Nature.
Hard as Iron
Ipe Lumber is also known appropriately as "Ironwood" because of its remarkable hardness and density. In other words, the real story is that Ipe Wood is very stable. All wood species move but they do not move evenly. Consequently, as moisture in the air changes, wood moves. Because most species of wood do not move the same amount in all directions either, it is this difference that will cause a board to warp and twist. A board will move more across the grain (tangential) than it will in the radial plane, and for all intents and purposes, not at all along the grain.
However, with Ipe wood the ratio between the tangential and radial (T/R ratio) is almost identical, at 1.1 meaning the board does actually move the same amount in all directions… almost. In short, this is why it is a top performer in decking and other exterior situations. Regardless of this near even movement, consideration should be given to gap size between boards when installing Ipe as decking.
IPE Lumber SPECIFICATIONS
| | | | |
| --- | --- | --- | --- |
| Character* | Green | Dry | Units |
| Bending Strength (MOR) | 22458 | 25963 | psi |
| Max Crushing Strength | 10312 | 13366 | psi |
| Stiffness (MOE) | 2901 | 3129 | 1000 psi |
| Work to Maximum Load | 28 | 22 | in-lbs/in3 |
| Hardness (Janka) | – | 3684 | lbs |
| Shearing Strength | – | 2048 | psi |
| Specific Gravity | 0.92 | 1.0 | – |
| Weight | – | 62 | lbs/ft3 |
| Density | – | 65-72 | lbs/ft3 |
| Radial Shrinkage | – | 7 | % |
| Tangential Shrinkage | – | 8 | % |
| T/R Ratio | – | 1.1 | – |
| Volumetric Shrinkage | – | 13 | % |
*numbers are averages based on multiple tests on a variety of samples. Wood is an organic material and characteristics will vary from growth region to region and even throughout the same tree.
Ipe Lumber Grading
Grading is a tough issue since there is no standardized grading system. Because Ipe has such a high global demand, the mills are exporting everything they can make. In addition, the North American market demands are very clear, and most mills do their best to only send the higher quality material, but as with any organic product there will be a mix of grades.
Though there is not a standardized grading system for Ipe lumber, we consider Grade A Ipe to be clear of defects on at least 3 sides. Defects include knots, borer holes, or sapwood. In other words, grade A Ipe will have a straight or cathedral grain pattern with no holes or knots.
Furthermore, quartersawn Ipe lumber presents some raised grain areas where the internal structure of the wood (medullary rays) is much harder. These rays appear as ridges that need to be sanded. This is not a defect; rather, it is an indication of a quartersawn board which will have very straight grain and be extremely stable.
Ipe wood can't be easily broken down into grade A or grade B. Using as much of the log and eliminating waste is a high priority all the way up the supply chain. The material that is available for sale will have a wide variety of grade, and pricing can change to reflect how much A and/or B grade you really want.
Learn More About Ipe
Check out all our articles on Ipe and Decking. The list grows all the time as we add more. So much to talk about!
Ipe Lumber Color Variation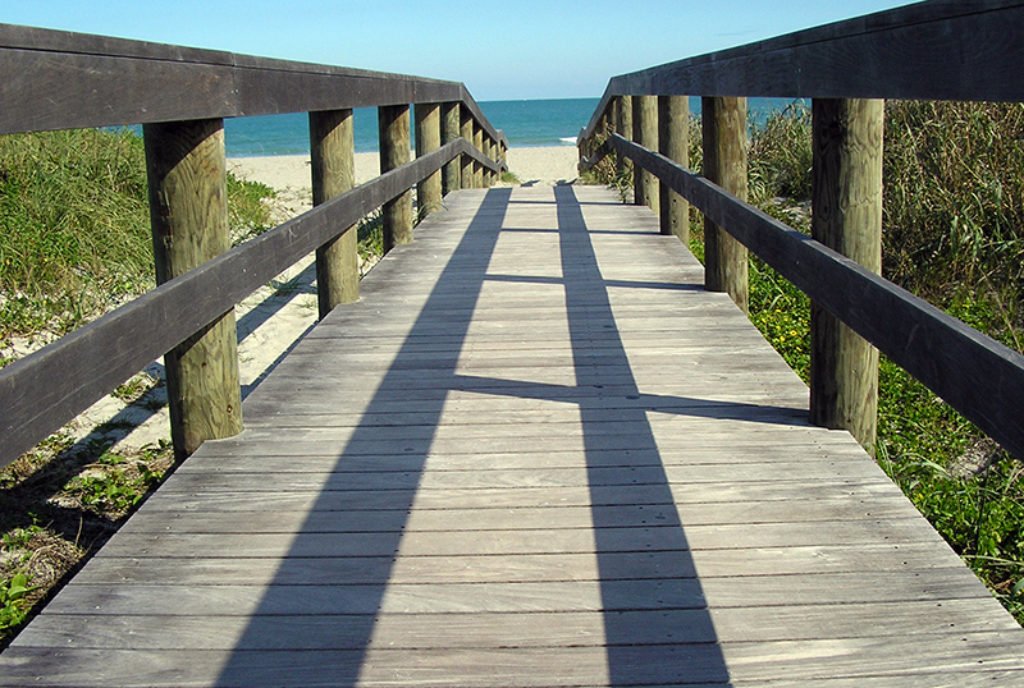 The color of Ipe wood is mostly a deep reddish brown, though variation is possible as with all woods. The enormous geographic range of Ipe especially can create variance in color and appearance based on local climate and soil chemistry and even how and when it is cut. Obviously, this is where some amount of quality control is necessary.
Because Ipe quality control is very important to us; we have an in depth process we follow to ensure our material meets the grade. Ipe wood is prized for its lustrous rich brown color, but like all wood it will fade in sunlight to an attractive silvery-gray patina if left untreated. Similarly, you can retain the brown hue and radiant texture by periodically treating your wood with an appropriate timber oil or by periodically using a deck cleaner and deck brightener.
Ipe applications
Ipe lumber is most commonly used for decks, bridge building projects, boardwalks, marinas, outdoor furniture, and other outdoor applications. If the boards are kiln dried, Ipe wood can also make for an attractive interior flooring option. Because of Ipe's incredible durability, it is usually chosen for very high traffic areas, where it can last for many, many years.
Because of its density and hardness, Ipe wood absorbs minimal moisture and typically experiences only minor shrinkage and movement after installation. It machines very well, and it rarely splinters or splits. The wood also resists decay and insect attacks.
Because Ipe is so dense, even in its untreated, natural state, it has a class A fire rating, making it nearly as fire resistant as concrete or metal.


In other words, there is no wood more suited to the harsh decking environment than Ipe.
Kiln or Air Dried?
J. Gibson McIlvain carries both air dried Ipe decking that is surfaced on 4 sides and eased on 4 edges (S4s, E4E) or kiln dried, rough sawn material. Decking is air dried to a 12-18% moisture content so as to prevent checking (cracks in the end of the board) and excessive movement as the material is exposed to the weather.
We end seal our Ipe decking boards to prevent checking during transit and acclimatization to new locations. We recommend you apply a sealer whenever you cut Ipe decking to length for the same reasons. Consequently, ask us about end sealer, and we can provide that with your order. For interior applications, the kiln dried material must be used since modern climate controlled interiors are much drier and the 6-8% kiln dried material is better suited.
Ipe Decking Installation
Our Ipe decking can be installed by face screwing or by using hidden clip fasteners. As a result, we can groove the material at our millworks upon request. Further, we carry a full line of Ipe clips, screws, bits, sealer, and oil for your decking projects.
But whether clip or face screwed, the most asked question about installing an Ipe deck is what size gap to leave between the boards. The answer, most annoyingly, is "it depends". Ipe is highly stable, it will be one of the easier boards to deal with. However, because it is so hard, Ipe is has some problems when installing it.


Click here to learn more about Ipe installation best practices
Above all, remember that Ipe decking is a milled product. As a result this means it is NOT a finished product. Additional sanding, finishing, and/or cleaning may be required after installation. Certainly we can offer sanding and pre-finishing services, we often discourage this as so much can happen to your Ipe from the time it leaves our lumber yard to the time you begin construction with it at your job site.
If nothing else, once your deck is installed, use a deck cleaner and deck brightener product to remove any dirt and to give you that freshly milled look. Consequently we stock these products and can include them with your order as well.

Ipe Decking Range of Sizes
Unlike a lot of the other tropical decking species, Ipe decking can be readily procured in larger sizes like 2 by, 4 by, and 6 by. Therefore we sell 6×6 or 4×4 posts for exterior structures and 2×4 through 2×12 for a wide variety of projects. While Ipe is known as the king of decking, it isn't just used for decking anymore these days, and we commonly sell it for siding, outdoor furniture, and bridges. We also maintain a huge inventory of these larger sizes on our lumber yard for immediate order fulfillment. Finally, we also stock rough sawn Ipe to feed our millwork for custom Ipe jobs.
– – – – – – – – – –
People frequently search for the following relevant terms: Brazilian Ipe wood, Ipe lumber, Ipe decking, Ipe wood siding, what is Ipe wood, Ipe deck boards, Ipe deck tiles, Ipe wood decking, Ipe lumber wholesale, Ipe siding, Ipe lumber suppliers, Ipe boards, Ipe wood flooring, Ipe wood maintenance, Brazilian hardwood Ipe, where does Ipe wood come from, Ipe decking distributors.